St Paul Apostle Pendant with 18" Sterling Silver Chain - 28mm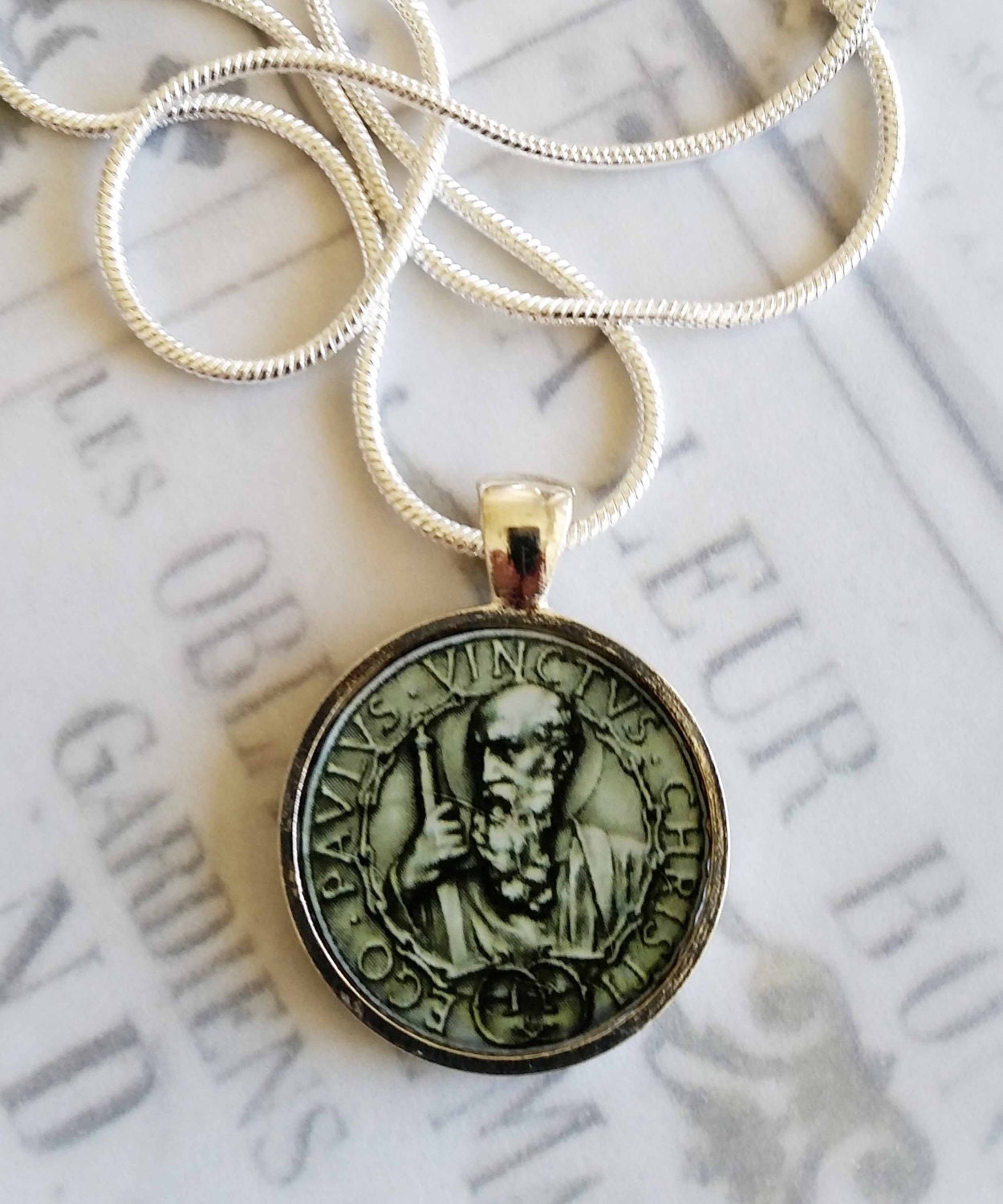 This Saint Paul Apostle Pendant hangs from a 20 inch sterling silver snake chain. The pendant measures 28 mm in diameter and has the words "EGO PAVLVS VINCTVS CHRISTI" (Latin) surrounding Saint Paul. The image is protected by clear casting resin giving it an antiqued look.

PAUL THE APOSTLE (Greek: Παῦλος Paulos; c. 5 – c. 67), original name Saul of Tarsus (Greek: Σαῦλος Ταρσεύς Saulos Tarseus), was an apostle (though not one of the Twelve Apostles) who taught the gospel of Christ to the first-century world. He is generally considered one of the most important figures of the Apostolic Age. In the mid-30s to the mid-50s, he founded several churches in Asia Minor and Europe. Paul used his status as both a Jew and a Roman citizen to advantage in his ministry to both Jewish and Roman audiences.

According to writings in the New Testament Paul, who was known as Saul early on, was dedicated to the persecution of the early disciples of Jesus in the area of Jerusalem. In the narrative of the book of Acts, while Paul was traveling on the road from Jerusalem to Damascus on a mission to "bring them which were there bound unto Jerusalem," the resurrected Jesus appeared to him in a great light. He was struck blind, but after three days his sight was restored by Ananias of Damascus, and Paul began to preach that Jesus of Nazareth is the Jewish Messiah and the Son of God. Approximately half of the book of Acts deals with Paul's life and works. He was a writer and Christian theologian and is known as the "Apostle of the Gentiles." Saint Paul's feast day is June 29th.
Ships
from United States
ship to
cost
with another item
United States

$0.00

USD

$0.00

USD

Everywhere Else

$9.00

USD

$0.00

USD