St James Apostle Pendant with 18" Sterling Silver Chain - 28mm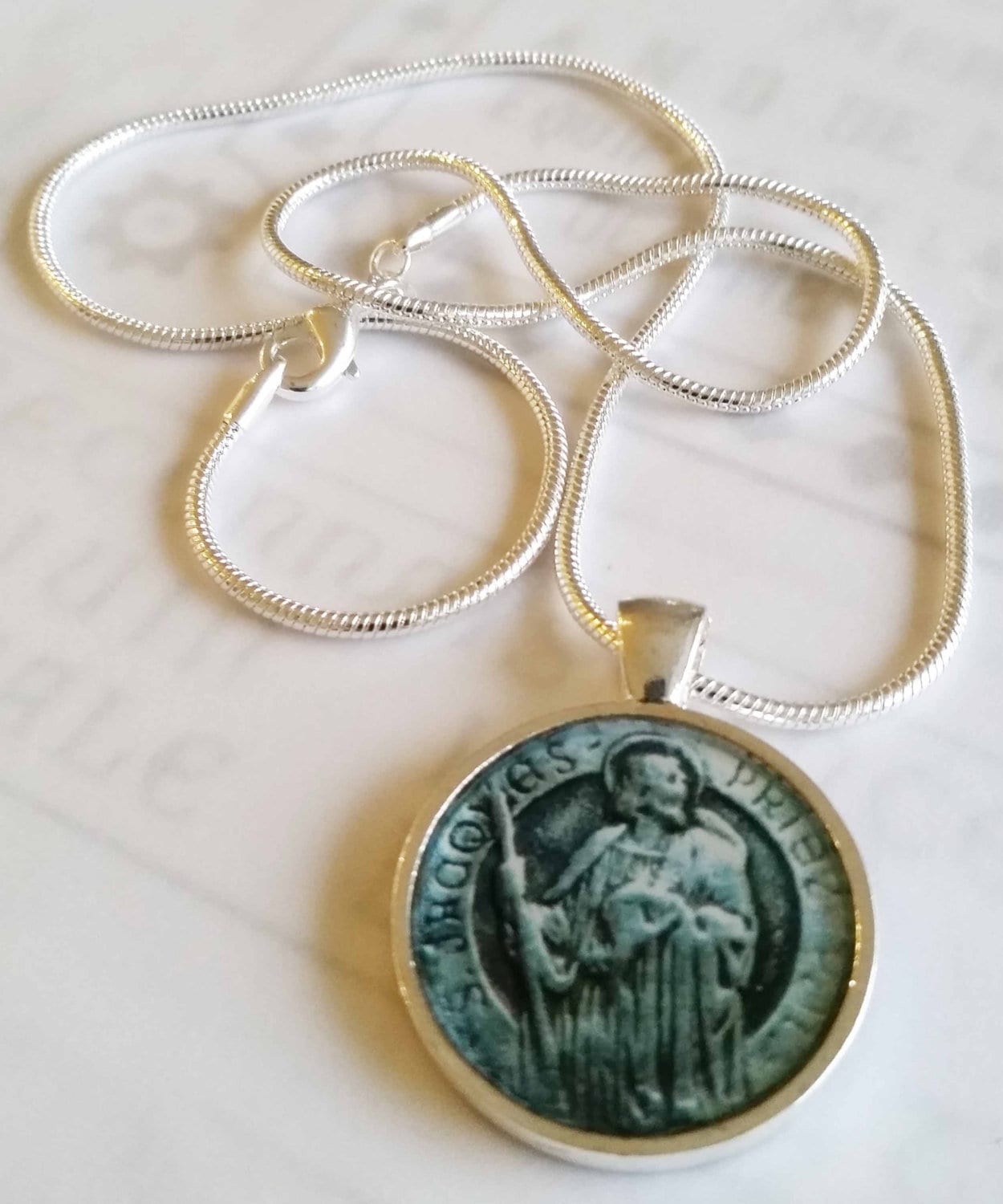 This Saint James the Greater Apostle Pendant hangs from a 20 inch sterling silver snake chain. The pendant measures 28 mm in diameter and has the words "S. JACQUES PRIEZ P.N." (French - St. James pray for us) surrounding the image of Saint James with a pilgrims staff or walking stick. The image is protected by clear casting resin giving it an antiqued look.

JAMES THE GREATER was the brother of John the Apostle. James is named "the Greater" to distinguish him from the Apostle James "the Less," who was probably shorter in stature. James was the elder of the two brothers. Jesus knew the brothers' nature when He first met them and chose "Boanerges" as a fitting nickname, which means "sons of thunder" (Mark 3:17). Typical of Galileans, they were religious, hardy, industrious, brave and strong defenders of the Jewish nation.

After the Crucifixion, James traveled preaching the gospel all the way to the Iberian Peninsula (Spain and Portugal). James later returned to Judea and was martyred by decapitation—Herod Agrippa I, the Judean monarch and grandson of King Herod I, cut off the head of James with his own sword. James' disciples carried his body by sea to Iberia, where they landed at Padrón on the coast of Galicia, and took it inland for burial at Santiago de Compostela.

WAY OF SAINT JAMES—The tradition at Compostela placed discovery of the relics of Saint James in the time of King Alfonso II (791-842) and of Bishop Theodemir of Iria. These traditions were the basis for the pilgrimage route that began to be established in the 9th century, and the shrine dedicated to James at Santiago de Compostela, in Galacia in Spain, and became the most famous pilgrimage site in the Christian world. The Way of Saint James is a tree of routes that cross Western Europe and arrive at Santiago through Northern Spain. Eventually James became the patron saint of Spain.
Ships
from United States
ship to
cost
with another item
United States

$0.00

USD

$0.00

USD

Everywhere Else

$9.00

USD

$2.00

USD