St James Apostle Pendant with 18" Sterling Silver Chain - 28mm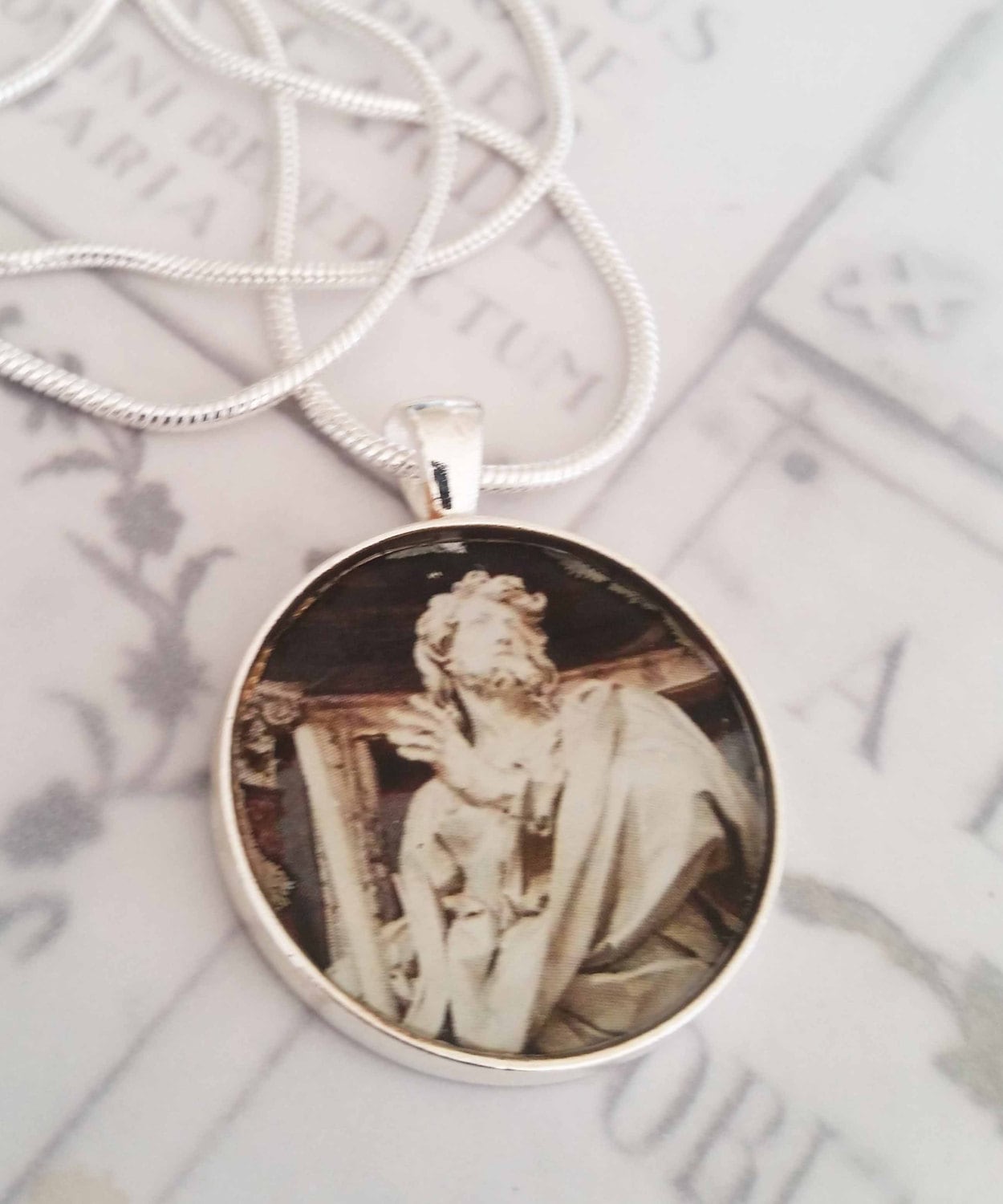 This Saint James the Lesser Apostle Pendant hangs from an 18 inch sterling silver chain. The pendant measures 28 mm in diameter and has the image of Saint James the Lesser statue that is in Rome with him holding a club. The image is protected by clear casting resin giving it an antiqued look.

JAMES THE LESSER was the son of Alphaeus and Mary of Clopas, and brother of Jude Thaddeus. James the lesser was also called "the minor" and "the little," to distinguish him from James the greater, who was the son of Zebedee.

James the lesser came from Nazareth and was related to Jesus and often called "brother of the Lord." He was also called "James the Just." He was known for drinking no wine or strong drink, he did not eat animal food, he never shaved, and did not anoint himself or take baths. He became Bishop of Jerusalem

As Bishop, James the lesser called the Council of Jerusalem or Christian Apostolic Age council about the year 50. Peter and Paul attended. The purpose was to decide whether circumcision for gentile converts was required for community membership since certain individuals were teaching that "Unless you are circumcised according to the custom of Moses, you cannot be saved. Demanding a Gentile adult male be circumcised in order to become a follower of Jesus may not only have been terrifying, but it may have been life-threatening. James concluded that Paul would not have to demand his men to become circumcised to remain in the group. James the lesser said "We should not trouble the Gentiles who are turning to God (Acts 15:19).

In 63 AD Ananus ben Ananus, a Sadducee, was appointed high priest of Israel in Jerusalem. Ananus decided to pressure James the less to deny that Jesus is the Messiah and the Son of God. He ordered James the lesser to stand on the Temple wall and speak against Jesus to the crowds which had gathered in preparation for the Passover. James instead spoke in favor of Jesus as the Christ; many heard him and many were converted. So the Jewish religious leaders threw James down from the Temple wall. Yet he did not die from the fall, so they began to stone him. Still he did not die from the stoning, so a man took a club and clubbed him to death. James the lesser's remains are kept at Dodici Apostoli church in Rome. His feast day is May 3, the same feast day as the Apostle Philip.
Ships
from United States
ship to
cost
with another item
United States

$0.00

USD

$0.00

USD

Everywhere Else

$9.00

USD

$2.00

USD