St Bartholomew Apostle Pendant with 20" Sterling Silver Chain - 32mm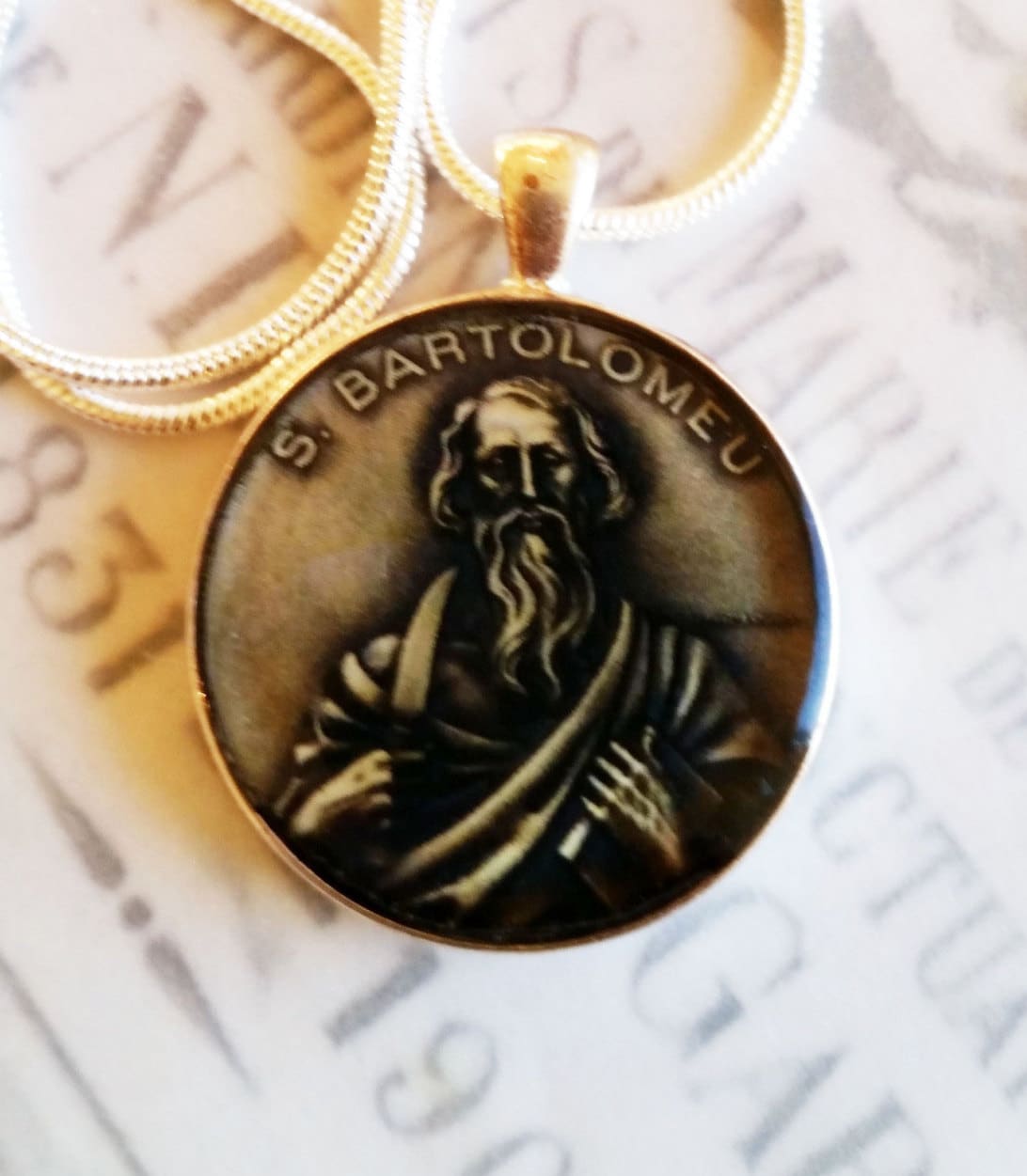 This Saint Bartholomew Apostle Pendant hangs from a 20 inch sterling silver snake chain. The pendant measures 32 mm in diameter and has the words "S.BARTOLOMEU" surrounding the image of Saint Bartholomew. The image is protected by clear casting resin giving it an antiqued look.

BARTHOLOMEW was born at Cana in Galilee and was the son of a farmer. He was living in Bethsaida. Bartholomew is sometimes referred to as Nathanael in the gospel. Philip was an old friend of Nathanael's.

The Calling of Philip and Nathanael

(John 1:47-51) 43 The next day Jesus wanted to go to Galilee, and He found Philip, and said to him, "Follow Me." 44 Now Philip was from Bethsaida, the city of Andrew and Peter. 45 Philip found Nathanael and said to him, "We have found Him of whom Moses in the law, as well as the prophets, wrote, Jesus of Nazareth, the son of Joseph."

46 Nathanael said to him, "Can any good thing come out of Nazareth?" Philip said to him, "Come and see."47 Jesus saw Nathanael coming to Him and said concerning him, "Here is an Israelite indeed, in whom is no guile." 48 Nathanael said to Him, "How do You know me?" Jesus answered him, "Before Philip called you, when you were under the fig tree, I saw you." 49 Nathanael answered Him, "Rabbi, You are the Son of God! You are the King of Israel!" 50 Jesus answered him, "Because I said to you, 'I saw you under the fig tree,' do you believe? You will see greater things than these." 51 And He said to him, "Truly, truly I say to you, hereafter you shall see heaven opened and the angels of God ascending and descending upon the Son of Man."

In fulfillment of the Great Commission, Bartholomew preached the Gospel in India. Then he preached in Ethiopia, Mesopotamia, Parthia and Lycaonia. Finally he went to Greater Armenia. Both Bartholomew and Jude Thaddeus brought Christianity to Armenia in the 1st century.

Bartholomew was flayed (skinned alive) and beheaded at the command of King Astyages at Albanopolis (Armenia), for converting his brother Polumius, the king of Armenia, to Christianity. Bartholomew's body was first carried to the island of Lipara, then to Benevento, and finally to Rome in the Island of the Tiber, where it is venerated by the pious faithful. Saint Bartholomew's feast day is August 24.
Ships
from United States
ship to
cost
with another item
United States

$5.00

USD

$3.00

USD

Everywhere Else

$13.50

USD

$5.00

USD