Rosary - Sri Lanka Sapphire + African Sodalite St Mary Magdalene - 18K Gold Vermeil + Miraculous Medal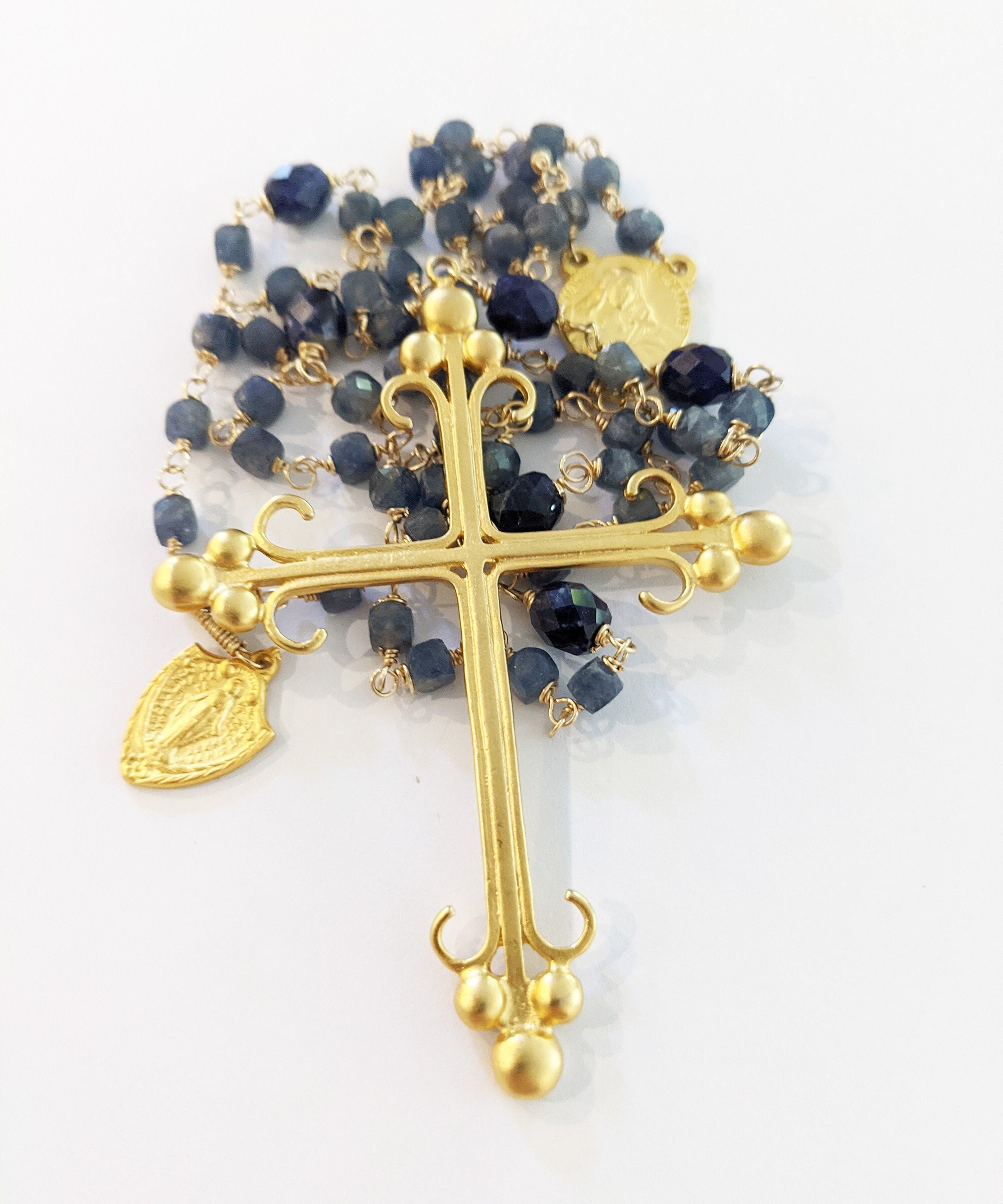 This Sri Lanka sapphire and African sodalite rosary has Saint Mary Magdalene medal in 18K gold vermeil as the center. The 18K gold vermeil large cross is beautiful and unique. Attached to the rosary is a Miraculous medal. The sapphires are the Hail Marys and the sodalite are the Our Fathers. This rosary measures 17.25 inches from the bottom of the cross to the middle of the third decade of Hail Marys.

Included with the rosary is a rosary box and a HOW TO PRAY THE ROSARY CARD.

CEYLON SAPPHIRES originate in the country known today as Sri Lanka, an island country in South Asia, located in the Indian Ocean southwest of the Bay of Bengal and southeast of the Arabian Sea. This beautiful island is responsible for much of the world's production of sapphires while also being known to produce high quality topaz and amethysts. The quality of Ceylon sapphires has long been noted. Explorer Marco Polo wrote that this island, appropriately nicknamed Gem Island, has the best sapphires in the entire world.

SODALITE is a royal blue tectosilicate mineral widely used as an ornamental gemstone. Although massive sodalite samples are opaque, crystals are usually transparent to translucent. Sodalite is a member of the sodalite group with hauyne, nosean, lazurite and tugtupite. First discovered by Europeans in 1811 in the Ilimaussaq intrusive complex in Greenland, sodalite did not become important as an ornamental stone until 1891 when vast deposits of fine material were discovered in Ontario, Canada.
Ships
from United States
ship to
cost
with another item
United States

$0.00

USD

$0.00

USD

Everywhere Else

$9.00

USD

$2.00

USD