Necklace - St Dominic de Guzmán 18mm - Sterling Silver + 18 Inch Italian Sterling Silver Box Chain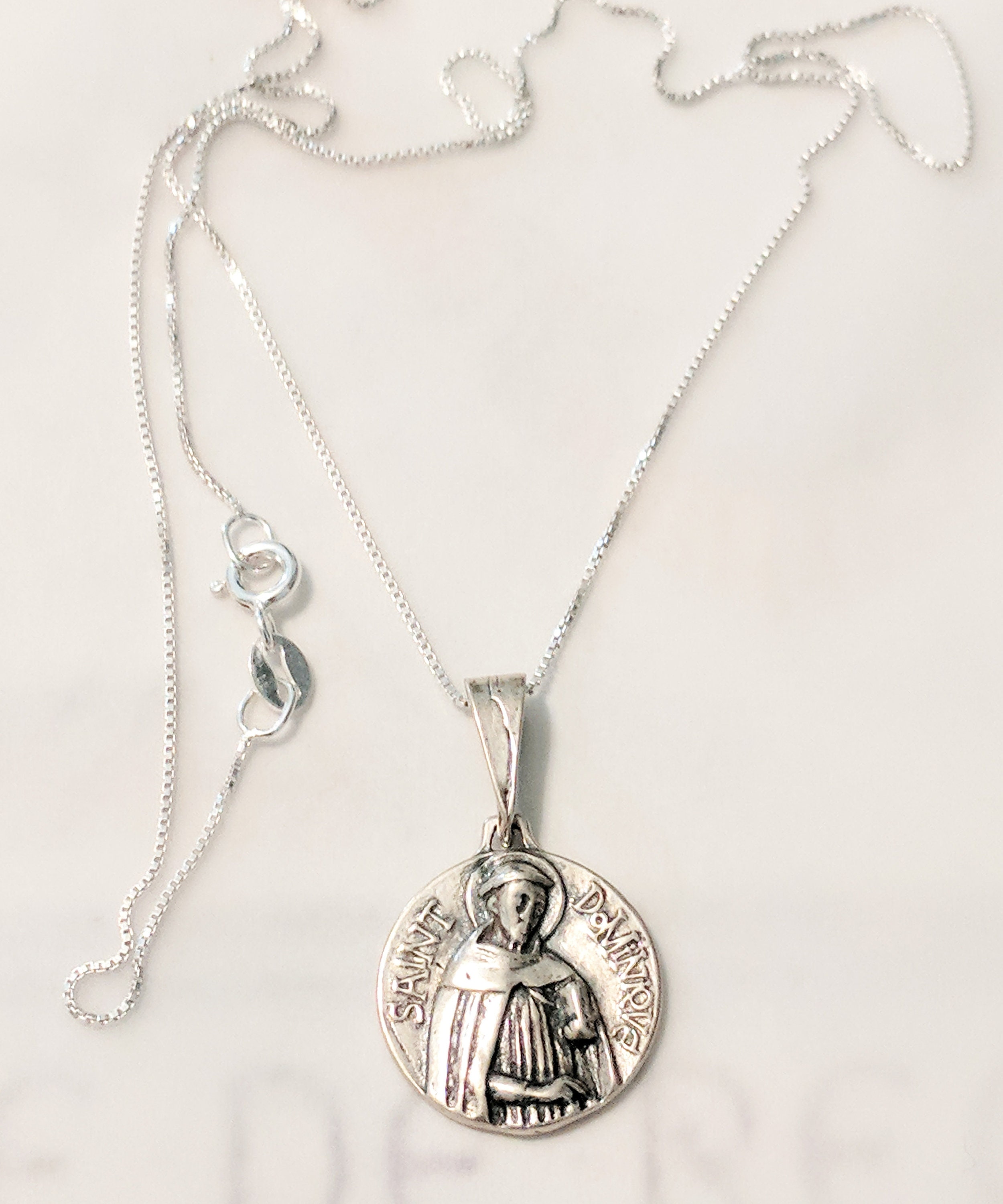 This sterling silver medal of Saint Dominic has his image on the front with the words SAINT DOMINIQUE. It is 18mm in diameter and is hung on a 20 inch sterling silver box chain. On the reverse side of the medal is an image of Saint Mary Magdalene with her alabaster jar. Saint Mary Magdalene is the co-patroness of the Dominican Order along with the Blessed Mother.

SAINT DOMINIC (1170-August 6, 1221), often called Dominic de Guzmán, was born in Caleruega, Spain. In 1194 he was ordained a priest and followed the rule of St. Benedict. In 1215, Dominic established himself, with six followers, in a house in Toulouse, France, given by a rich resident. They followed the monastic rules of prayer and penance. Bishop Foulques gave them authority to preach throughout the territory of Toulouse.

Dominic went to Rome in September 1215 with the purpose of founding a religious order. On the first two visits he met with Pope Innocent III. He wanted the Pope to give to his unknown association, only a few months old, freedom from all parish restrictions and responsibilities, exemption from the jurisdiction of bishops, and a charter to preach throughout the entire world! After Dominic's departure Pope Innocent III wrote a letter to him, addressing it "To Master Dominic and the Brothers Preachers."

Pope Innocent III died on July 16, 1216, thus not fulfilling his intention to grant St. Dominic's wish. Honorius III was elected his successor. Pope Honorius III confirmed the Order and gave as its official title the name under which it was first addressed by his illustrious predecessor. "The Order of Brothers Preachers," or, in its simpler form, "Friars Preachers," has been its official title from its inception. This, in turn, has been further condensed to "Order of Preachers." Hence the letters "OP," which follow the name of every Dominican.
Ships
from United States
ship to
cost
with another item
United States

$0.00

USD

$0.00

USD

Everywhere Else

$9.00

USD

$2.00

USD