Medal - St Andrew the Apostle 18mm - Sterling Silver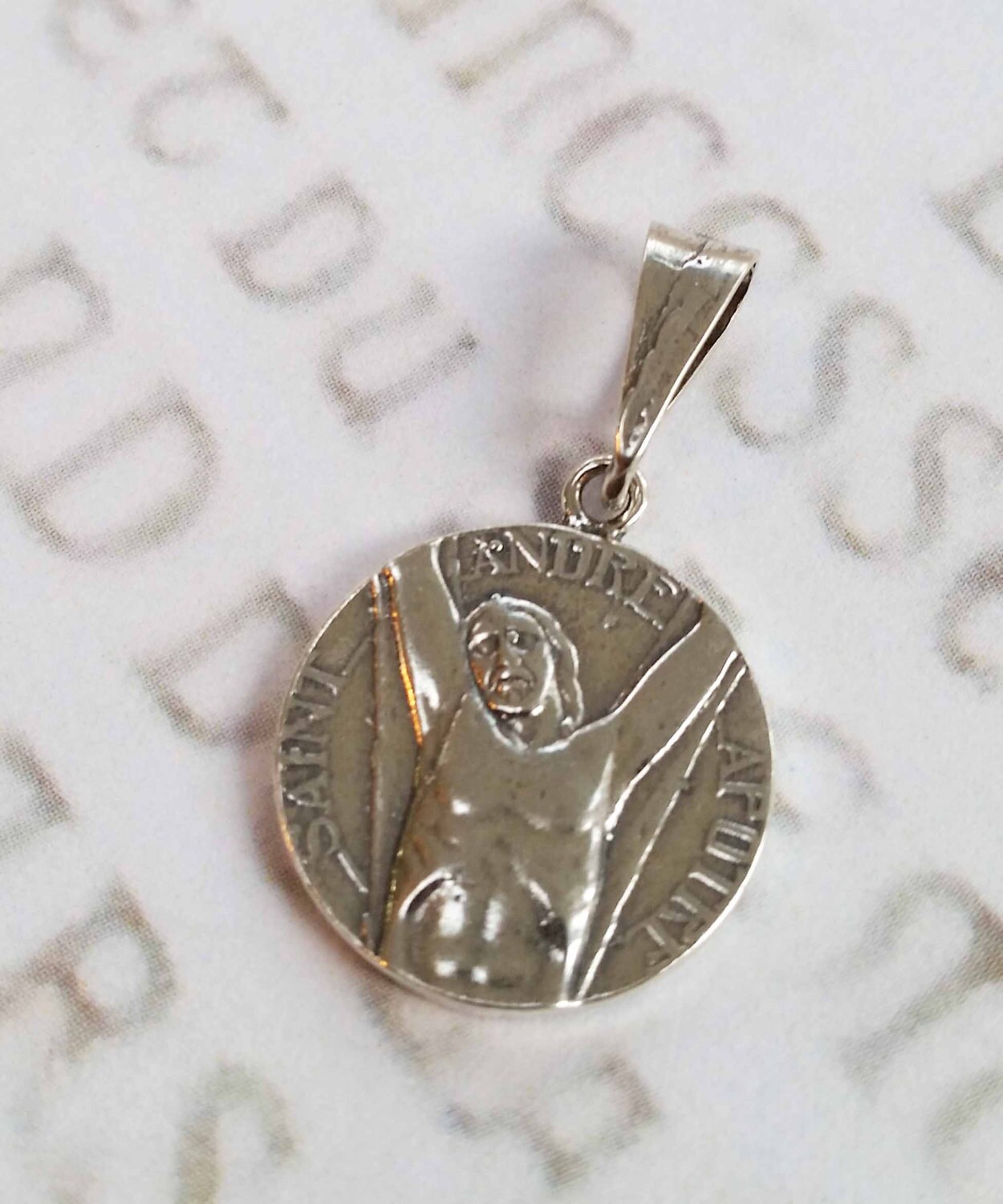 This sterling silver Saint Andrew medal measures 18 mm in diameter. Saint Andrew is depicted on the X shaped cross or "saltire" - the shape of the cross on which he was eventually crucified. The words "SAINT ANDRE APOTRE" surround the image of Saint Andrew hanging on the X shaped cross.

ANDREW and his brother Simon, were sons of Jonah born in the village of Bethsaida, on the northern shore of the Sea of Galilee. The two brothers were fishermen by trade. Andrew had been a follower of John the Baptist - the one who was preaching repentance. Andrew was present with John the Baptist the day Jesus approached John to be baptized in the Jordan River (which runs through the Sea of Galilee). A dove (symbol of the Holy Spirit) flew just above Jesus' head and John declared the words, "Behold, The Lamb of God who takes away the sins of the world!" Andrew at once recognized Jesus as the Messiah and rushed to tell his brother Simon about Jesus. The two became followers.... Andrew is known as the "First-called."

At the beginning of Jesus' public life, Andrew and his brother were said to have lived in the same house as Jesus in Capernaum, on the northern shore of the Sea of Galilee. The gospels tell us that Andrew was the one who told Jesus about the boy with the loaves and fishes (John 6:8), which took place in Tabgha, just 3 miles from Capernaum. When Philip wanted to tell Jesus about certain Greeks seeking Him, he told Andrew first (John 12:20-22). Andrew was present at the Last Supper.

After receiving the Great Commission from the risen Christ on the mountain in Galilee, Andrew traveled on foot to Scythia. He preached along the Black Sea and up the Dnieper River as far as Kiev (Ukraine). Then he traveled all the way to Novgorod (Russia). He became the patron saint of Ukraine, Romania and Russia.
Ships
from United States
ship to
cost
with another item
United States

$0.00

USD

$0.00

USD

Everywhere Else

$9.00

USD

$2.00

USD