Necklace - Crusader Cross 29x36mm - 18K Gold Vermeil + 18 Inch 18K Gold Vermeil Chain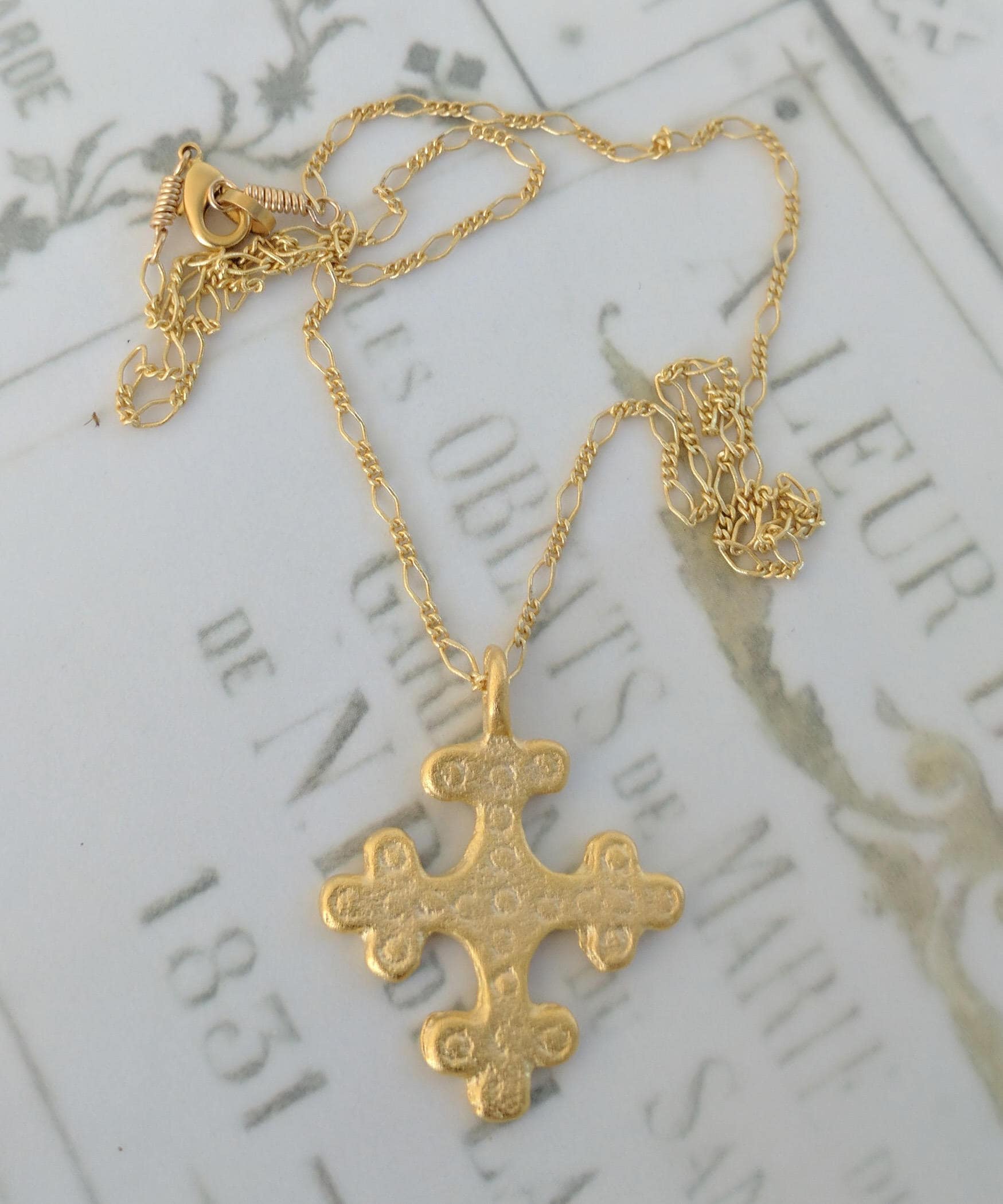 This Rare Crusader Cross has been recast in sterling silver and then plated in 18K gold (18K gold vermeil). The Parisian Chain has been plated to match the Cross, measures 18 inches in length and is unique.

CROSS AS A SYMBOL
The sign of Christ's crucifixion and resurrection and principal symbol of the Christian faith was associated with the crusade movement from its very inception. At the Council of Clermont (1095), which set in motion the First Crusade (1096-1099), Pope Urban II decreed that all those going to fight on behalf of their fellow Christians in the East should wear the sign of the cross. The use of the cross as the special sign of the crusader was immediately taken up with great enthusiasm as Urban's appeal found adherents all over the West.

The attachment of a cross to clothing or armor came to be the most visible and popular outward expression of the intention to go on crusade, so much so that "to take the cross" effectively meant the same as to take a crusade vow.

ST LOUIS IX - KING OF FRANCE & CRUSADER
Louis was born on 25 April 1214 at Poissy, near Paris, the son of Louis VIII of France and Blanche of Castile. At the time of his birth his grandfather, Philip II, was King of France. Louis was 9 years old when his grandfather died and his father became King Louis VIII. When Louis was 12 years old his father died, and a month later Louis was crowned king at Reims cathedral. Because he was so young his mother ruled France as regent for a number of years.

Louis' mother trained him to be a great leader and a good Christian. When he was 20 years old he married Margaret of Provence, a devout Catholic. At this time he took charge as King of France.

In 1248 Louis decided that his obligations as a son of the Church out- weighed those of his throne, and he left his kingdom for the SEVENTH CRUSADE. Louis landed in Egypt with his followers in June of 1249. Two years later Louis lost his army in battle and was captured by the Egyptians. His release was eventually negotiated for a very large sum of money.

In the spring of 1254 King Louis IX and his army returned to France. He and his entourage climbed the mountain to the Cave of La Sainte-Baume to give thanks for their safe return from the CRUSADES. There is a plaque in the cave that commemorates this visit with the words "Visitee par S Louis a son retour de la Terre Sainte" or "Visited by Saint Louis on his return of the Holy Land."

King Louis IX was renowned for his charity. Beggars were fed from his table, he ate their leftovers, washed their feet, ministered to the wants of the lepers, and daily fed over one hundred poor. He founded many hospitals and houses to help the poor and down trodden.

In 1270 on his second CRUSADE, King Louis IX died at Tunis of dysentery.

Pope Boniface VIII proclaimed the canonization of Louis in 1297; he is the only French king to be declared a saint.

King Louis IX's nephew, Charles of Anjou, was the one to uncover the tomb of Mary Magdalene in 1279.
Ships
from United States
ship to
cost
with another item
United States

$0.00

USD

$0.00

USD

Everywhere Else

$9.00

USD

$2.00

USD