Rosary - Pink Floral Porcelain 18K Gold Vermeil + Mary of Magdala and Saintes-Maries Medals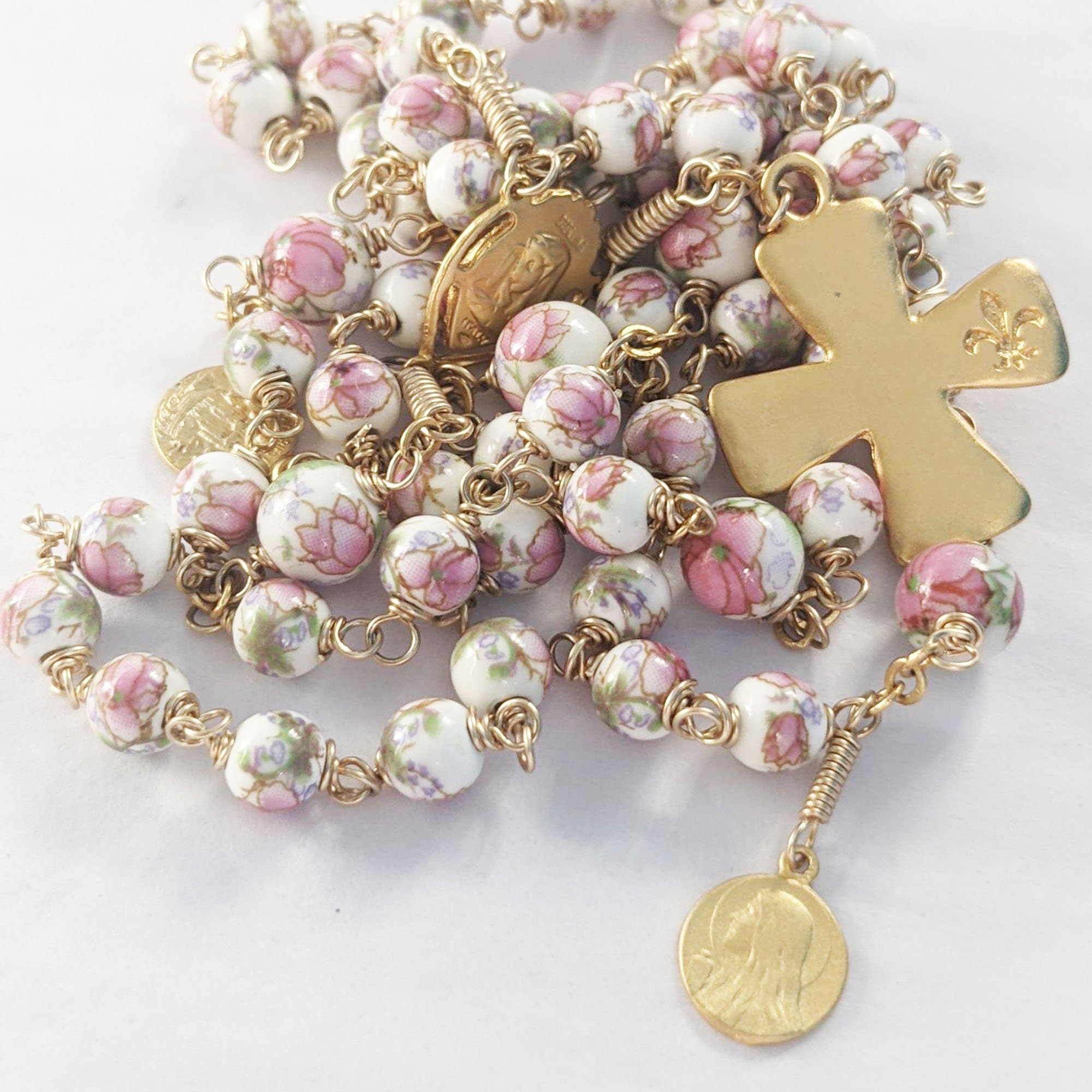 This rosary is handmade with porcelain floral beads wire wrapped with gold filled wire. The crucifix and center are 18K gold vermeil as well as the medals of Mary of Magdala and Saintes-Maries.

The rosary measures 21 inches from the end of the crucifix to the middle of the third decade of Hail Marys./

THE PROVENCAL TRADITION
Tradition has it that, after the execution of St. James in Jerusalem (son of Zebedee and Mary Salome), Mary Magdalene, her sister Martha and brother Lazarus were persecuted by the Jews of Jerusalem and imprisoned. The Jews were afraid of the crowd if they were to execute the prisoners so they towed them off the shores of Palestine in a boat without sails or oars or supplies and abandoned them to the open sea. Others in the boat included Mary Jacobe, mother of James and the sister-in-law of the Virgin Mary, Mary Salome, mother of the apostles James and John, Maximin, one of the seventy two disciples of Christ, Cedonius, the blind man who was miraculously healed by Jesus, Marcelle, Martha's servant, and Sara, maid of the two Marys. Also in the boat were the remains of Sainte Anne, mother of the Blessed Mother. They did not want to leave her remains in Jerusalem because Jesus told them Jerusalem would be destroyed.

After narrowly escaping death during a storm at sea the boat finally came to shore on the coast of Gaul in a town now called Saintes-Maries-de-la-Mer in Camargue.

Mary Jacobe, Mary Salome and Sara remained in Camargue. Martha traveled towards Avignon and ended up in Tarascon. Mary Magdalene, Lazarus, Maximin and Cedonius traveled on to Marseille where Mary Magdalene began to preach. They ended up converting the whole of Provence. Lazarus became the first bishop of Marseille.

Mary Magdadene then went on to Aix where Maximin had already gone, some twenty miles north of Marseille. Maximin became the first bishop of Aix and Mary Magdalene retreated to a mountain cave on the plain of the Plan d'Aups known as La Sainte-Baume (47 AD) where she remained alone for the last thirty years of her life in contemplation, prayer and penance. She is said to have been lifted up by the angels seven times each day at the canonical hours and fed heavenly nourishment. The tiny chapel of Saint Pilon on the crest above La Sainte-Baume was built in memory of Mary Magdalene being raised by angels.

When the time of Mary Magdalene's death arrived she was carried by angels to the oratory of Maximin, where she received viaticum. She died in Maximin's arms and her body was laid in an alabaster sarcophagus in an oratory he constructed in the Gallo Roman town of Villa Latta or Tégulata, which after Maximin's death became St. Maximin-la-Sainte-Baume.
Ships
from United States
ship to
cost
with another item
United States

$0.00

USD

$0.00

USD

Everywhere Else

$9.00

USD

$2.00

USD