Rosary - St James Cross - Amethyst + Brother Apostles Sts James & John - Sterling Silver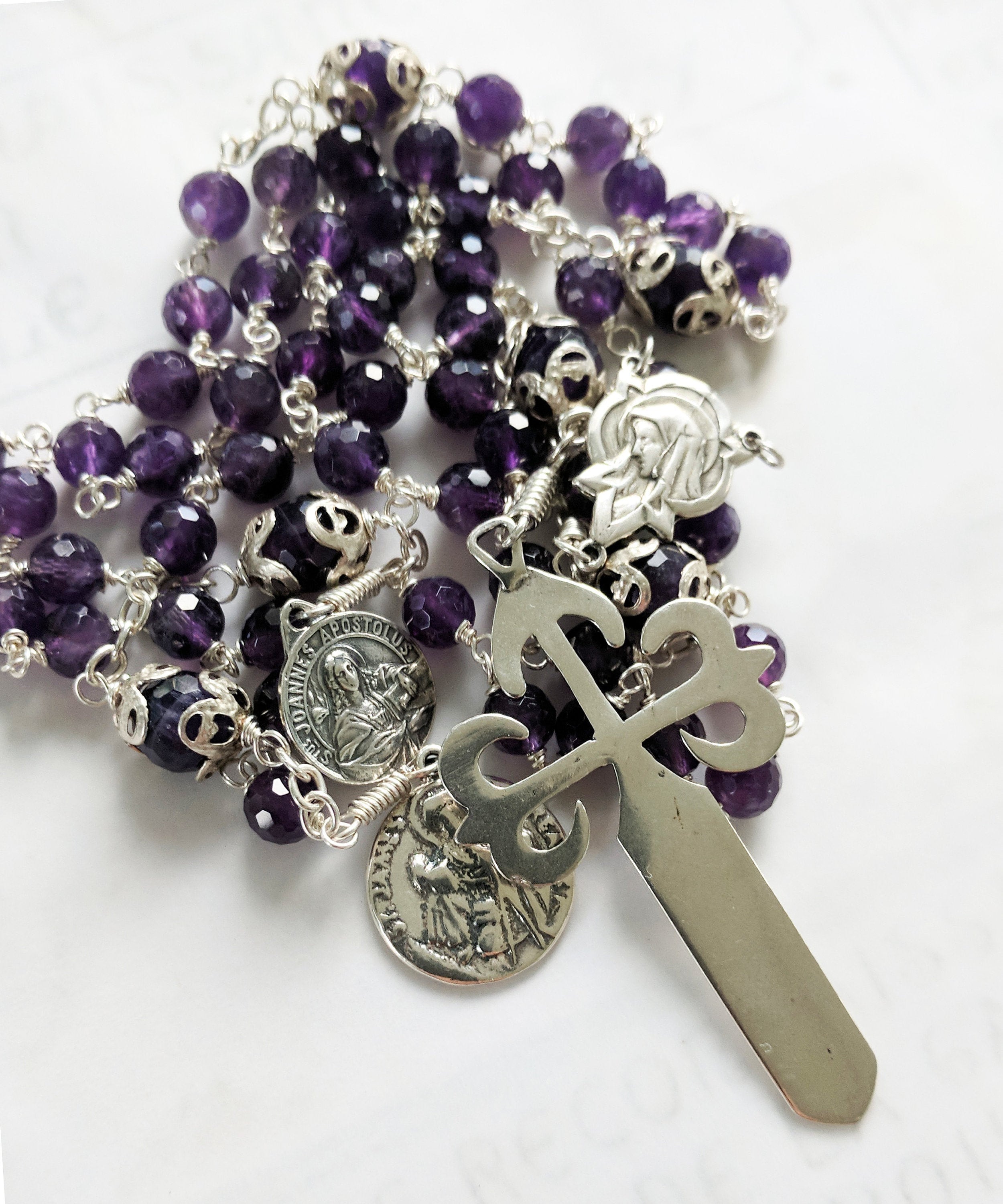 This St James Rosary is handmade with genuine amethyst. The St James Cross and center are sterling silver. The amethyst stones are wrapped in sterling silver wire and also attached to the rosary are sterling silver medals of St John and St James, two sons of Zebedee who were called to follow Jesus as they were fishing with their father. Each Our Father bead has sterling silver lacey caps on either side.

The rosary measures 23 1/2 inches from the bottom of the St James cross to the middle of the third decade of Hail Marys.

CROSS OF SAINT JAMES, also called the Santiago cross or the cruz espada, is a charge in the form of a cross. It combines a cross fitchy (the lower limb is pointed, as if to be driven into the ground) with either a cross fleury (the arms end in fleurs-de-lis) or a cross moline (the ends of the arms are forked and rounded). The Cross of Saint James with flourished arms, surmounted with an escallop, was the emblem of the twelfth-century Spanish military Order of Santiago, named after Saint James the Greater.

WAY OF SAINT JAMES
The tradition at Compostela placed discovery of the relics of Saint James in the time of King Alfonso II (791-842) and of Bishop Theodemir of Iria. These traditions were the basis for the pilgrimage route that was established in the 9th century. And the shrine dedicated to Saint James at Santiago de Compostela, in Galicia, Spain became the most famous pilgrimage site in the Christian world. The Way of Saint James is a tree of routes that cross western Europe and arrive at Santiago through northern Spain. Eventually Saint James the greater became the patron saint of Spain. The feast of Saint James the greater is July 25.

The scallop shell, often found on the shores of Galicia, has long been the symbol of the Camino de Santiago. The scallop shell also acts as a metaphor. The grooves in the shell, which meet at a single point, represent the various routes pilgrims traveled, eventually arriving at a single destination: the tomb of Saint James in Santiago de Compostela.
Ships
from United States
ship to
cost
with another item
United States

$0.00

USD

$0.00

USD

Everywhere Else

$9.00

USD

$2.00

USD