Rosary - French Pink Hand-Painted Glass + Mary of Magdala and Saintes-Maries - 18K Gold Vermeil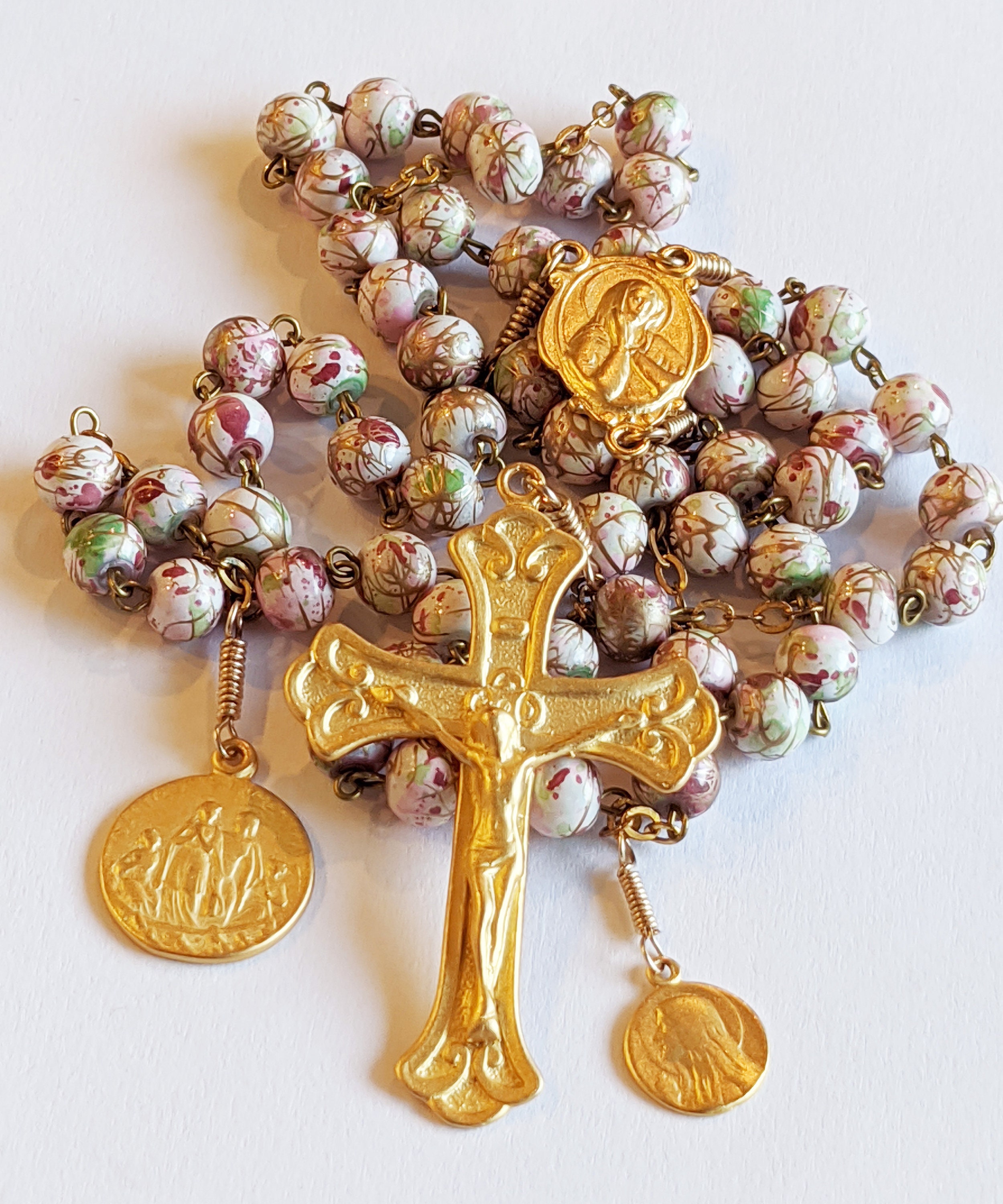 I made this rosary with hand-painted French glass beads, wire-wrapping the French glass beads and chain with gold filled wire. It is complete with an 18K gold vermeil Saint Mary Magdalene medal and an 18K gold medal of the Saintes-Maries (the other two Marys at the empty tomb). The crucifix, center and medal are 18K gold vermeil. The center has Our Sorrowful Mother on one side and the Sacred Heart of Jesus on the other.

From the end of the crucifix to the middle of the third decade the rosary measures 19 inches. Included is a HOW TO PRAY THE ROSARY CARD.

Our Sorrowful Mother's SEVEN SORROWS - The Seven Sorrows (or Dolors) are events in the life of the Blessed Virgin Mary:

The Prophecy of Simeon. (Luke 2:34-35) or the Circumcision of Christ
The Flight into Egypt. (Matthew 2:13)
The loss of the child Jesus in the Temple. (Luke 2:43-45)
Mary meets Jesus on the way to Calvary.
Jesus dies on the cross. (John 19:25)
The piercing of the side of Jesus, and Mary's receiving the body of Jesus in her arms. (Matthew 27:57-59)
The body of Jesus is placed in the tomb. (John 19:40-42)

SACRED HEART DEVOTION
The devotion to the Sacred Heart (also known as the Most Sacred Heart of Jesus, Sacratissimum Cor Iesu in Latin) is one of the most widely practiced and well-known Roman Catholic devotions, taking the heart of the resurrected Body as the representation of the love by Jesus Christ God, which is "his heart, pierced on the Cross", and "in the texts of the New Testament is revealed to us as God's boundless and passionate love for mankind".

This devotion is predominantly used in the Roman Catholic Church, followed by the high-church Anglicans, Lutherans and Eastern Catholics. In the Roman Catholic Church, the liturgical Solemnities of the Most Sacred Heart of Jesus is celebrated the first Friday after the octave of Corpus Christi, or 19 days after Pentecost Sunday.

The devotion is especially concerned with what the Church deems to be the longsuffering love and compassion of the heart of Christ towards humanity. The popularization of this devotion in its modern form is derived from a Roman Catholic nun from France, Saint Margaret Mary Alacoque, who said she learned the devotion from Jesus during a series of apparitions to her between 1673 and 1675, and later, in the 19th century, from the mystical revelations of another Roman Catholic nun in Portugal, Blessed Mary of the Divine Heart, a religious of the Good Shepherd, who requested in the name of Christ that Pope Leo XIII consecrate the entire world to the Sacred Heart of Jesus. Predecessors to the modern devotion arose unmistakably in the Middle Ages in various facets of Catholic mysticism, particularly with Saint Gertrude the Great.
Ships
from United States
ship to
cost
with another item
United States

$0.00

USD

$0.00

USD

Everywhere Else

$9.00

USD

$2.00

USD