Rosary - Genuine Garnet Jerusalem Cross Center Holy Robe and Mary of Magdala - 18K Gold Vermeil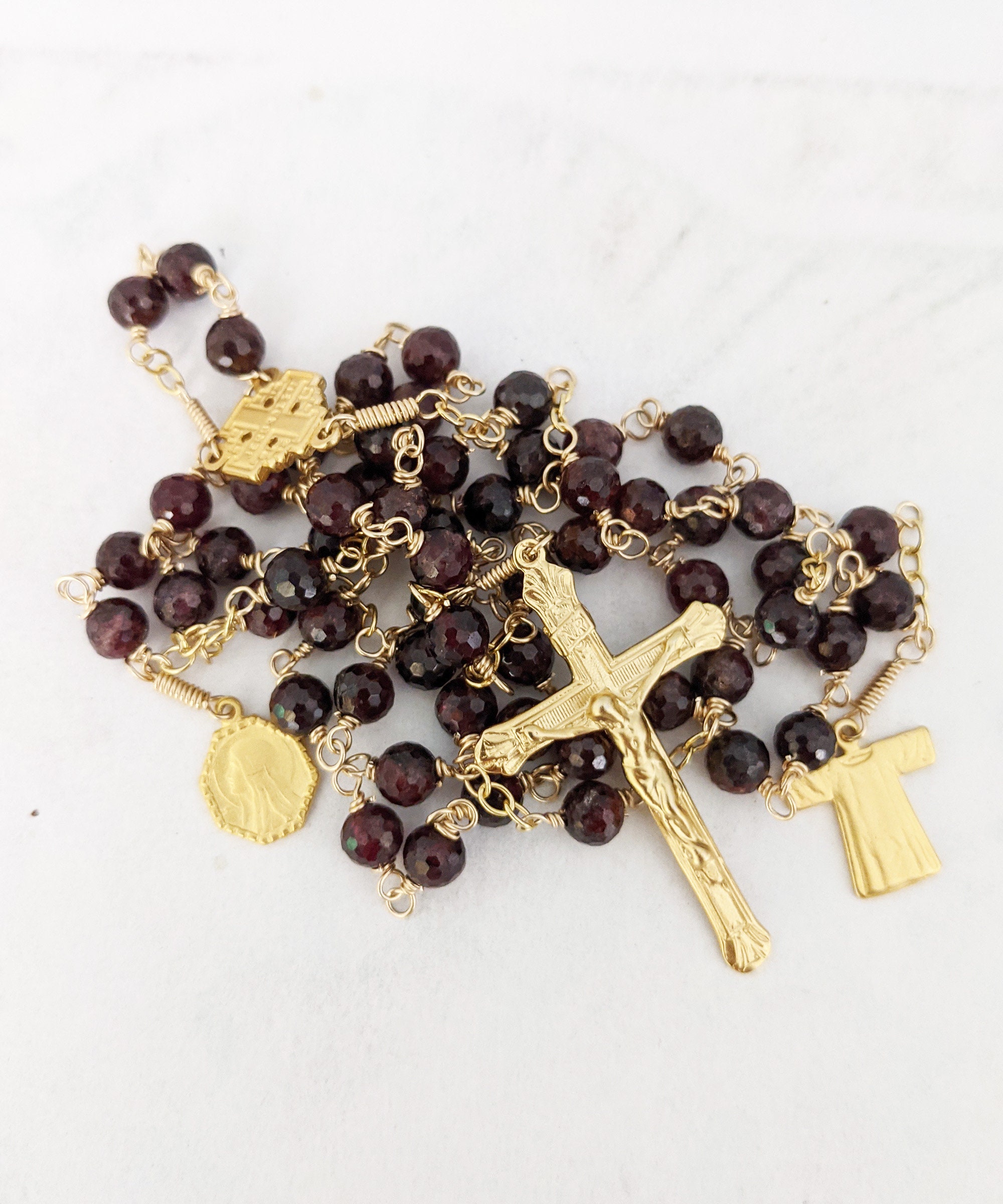 This gorgeous rosary is made with genuine garnet stones, each wire wrapped in gold filled wire. The crucifix and Jerusalem Cross center are 18K gold vermeil as well as the Mary of Magdala with her alabaster jar and the Holy Robe of Trier are 18K gold vermeil.

SIZE: From the middle of the third decade of garnet Hail Marys to the end of the crucifix measures 20 1/2 inches.

MARY OF MAGDALA
Magdala is a town on the northwestern shore of the Sea of Galilee at the foot of Mount Arbel. Its most famous citizen is Mary Magdalene—Mary of Magdala. Mary Magdalene is mentioned in the Gospel as being among the women of Galilee who followed Jesus and His disciples and supported them "out of their own means."
The Sea of Galilee, also known as Kinneret, Lake of Gennesaret, or Lake Tiberias, is the lowest freshwater lake on Earth (700 feet below sea level). The lake is fed partly by underground springs although its main source is the Jordan River, which flows through it from north to south. It is 13 miles long and 8 miles wide and has a circumference of 33 miles. According to the Gospel, Jesus spent most of the three years of His ministry along the shore of this freshwater lake. Here He gave more than half of His parables and here He performed most of His miracles.

HOLY ROBE OF JESUS
The Seamless Robe of Jesus (also known as the Holy Robe, Holy Tunic, Holy Coat, Honorable Robe, and Chiton of the Lord) is the robe said to have been worn by Jesus during or shortly before his crucifixion.
"When they had crucified him, they divided up his clothes by casting lots." Matthew 27:35
They were fascinated that Jesus' robe was woven without a seam and they had never see that, so they kept it. The Holy Robe is now in a church in Trier, Germany.
Ships
from United States
ship to
cost
with another item
United States

$0.00

USD

$0.00

USD

Everywhere Else

$9.00

USD

$2.00

USD